The idea that cpu clock rate is the main driver of system performance on the SPEC cpu benchmark is probably well entrenched in developers' psyche. Common knowledge, or folklore, is slow to change. The apparently relentless increase in cpu clock rate, a side-effect of Moore's law, stopped over 10 years ago, but many developers still behave as-if it is still happening today.
The plot below shows the SPEC cpu integer performance of 4,332 systems running at various clock rates; the colors denote the different peak memory transfer rates of the memory chips in these systems (code and data).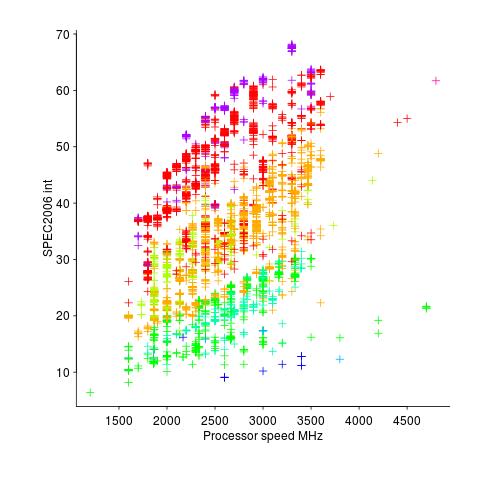 Fitting a regression model to this data, we find that the following equation predicts 80% of the variance (more complicated models fit better, but let's keep it simple):

where: Processor.MHz is the processor clock rate, memrate the peak memory transfer rate and memfreq the frequency at which the memory is clocked.
Analysing the relative contribution of each of the three explanatory variables turns up the surprising answer that peak memory transfer rate explains significantly more of the variation in the data than processor clock rate (by around a factor of five).
If you are in the market for a new computer and are interested in relative performance, you can obtain a much more accurate estimate of performance by using the peak memory transfer rate of the DIMMs contained in the various systems you were considering. Good luck finding out these numbers; I bet the first response to your question will be "What is a DIMM?"
Developer focus on cpu clock rate is no accident, there is one dominant supplier who is willing to spend billions on marketing, with programs such as Intel Inside and rebates to manufacturers for using their products. There is no memory chip supplier enjoying the dominance that Intel has in cpus, hence nobody is willing to spend the billions in marketing need to create customer awareness of the importance of memory performance to their computing experience.
The plot below shows the SPEC cpu integer performance against peak memory transfer rates; the colors denote the different cpu clock rates in these systems.