The LibreOffice suite of office programs traces it origins back to StarWriter, first launched in 1985 by a German company. Given its German parentage it's no surprise that the source code contains comments written in German.
There has been a push by the LibreOffice folks to convert the German comments to English comments. The plot below shows the number of German comments in the source of LibreOffice over time (release version numbers at the top and red line is the least squares fit of an exponential; code and data).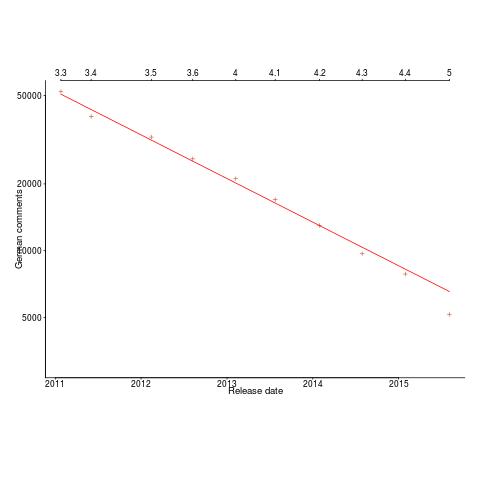 I am not only surprised to see such a regular decline in the number of German comments, but also that the decline is exponential.
The pattern of behavior may be driven by those doing the work:
people may be motivated by the number of remaining German comments; as the number decreases, people may be less likely to think it is worthwhile converting what is left,
perhaps those doing the conversion say to themselves: "I will do x% of the comments and then stop". Having decided on this approach, there would have to be some form of signaling to other involved parties, otherwise the rate of decline would not be so smooth.
Perhaps the issue is the skill required to convert the comments:
perhaps many comments are easy to convert, with the conversion process getting progressively harder, e.g., exponentially so with those doing the conversion have roughly the same conversion skill level,
alternatively the skill required to convert the comments is roughly the same, but the number of people, of those doing the work, with a given skill level is an exponential.
I find it hard to believe any of these mechanisms. Suggestions for easier to believe mechanisms welcome.